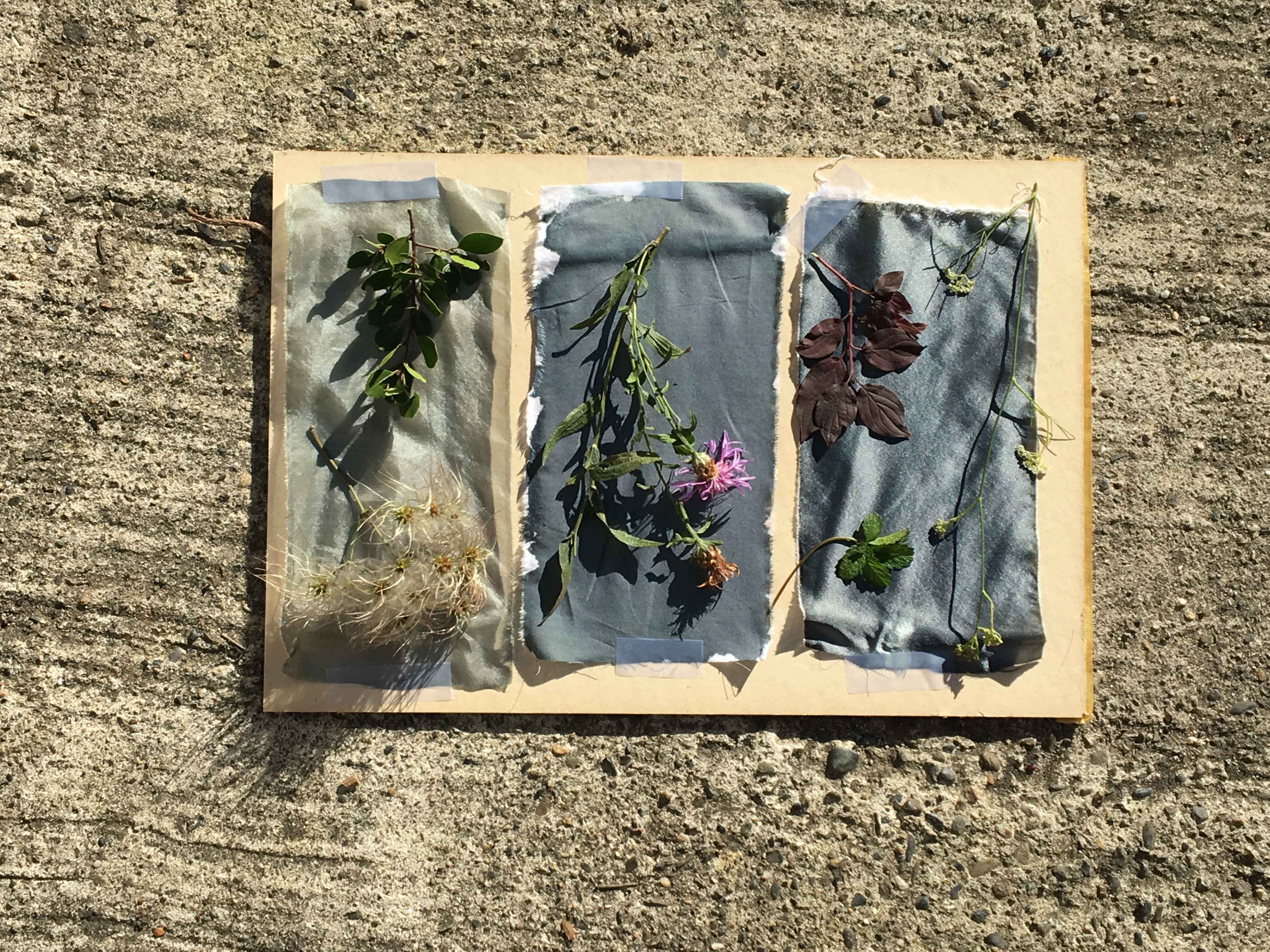 Botanique est une série de carrés de soie réalisée avec la technique photographique du cyanotype. Inspirés de l'histoire de ce procédé, les carrés de soie mettent en scène des éléments végétaux. Chaque carré est une pièce unique, totalement réalisé à la main jusqu'à sa finition roulottée. A mon tour, je m'approprie cette technique. Je collecte au travers de mes promenades des plantes tels des souvenirs de lieux rencontrés au quotidien ou exceptionnellement.
Je les mets en scène sur des cadres. Dans le noir j'enduis le twill de soie de la solution du cyanotype. Je la place dans mon cadre puis l'expose à la lumière du jour. Entre le textile et les rayons du soleil commence un dialogue. La soie change de couleur peu à peu. L'image est en train de se créer. Un bain d'eau claire, elle révèle enfin sa couleur bleue et l'empreinte dont elle s'est emparée. Par cadre je réalise entre un à trois tirages. Souvent une surprise apparaît, ce qui les rend unique. Pour terminer, je réalise un ourlet roulotté à la main, une technique traditionnelle.
Botanique is a series of silk squares made using the photographic technique of cyanotype. Inspired by the history of this process, the silk squares featurelements of plant-life. Each square is a unique piece, completely hand-made from beginning to end. I have adapted this technique for my own purposes. During my walks I collect plants as souvenirs of places encountered exceptionally or in daily life. I mount them on frames. In the dark I coat the silk twill with the cyanotype solution. I place it in my frame and then expose it to daylight. Between the textile and the sunlight a dialogue begins. The silk changes colour little by little. The image is being created. Following a bath of clear water, its blue colour is finally revealed and the imprint it has taken. For each frame, I make between one and three prints. Often a surprise appears, which makes them unique. To finish, I hand roll the edges of the silk square, a traditional technique.